Meet our friendly, experienced team!
Our highly skilled veterinarians and support team have served the pets of the Treasure Valley since 1979. We started as a mobile clinic, and have expanded to include a stationary office as well. Since each pet is different, we offer as many options as we can to individualize our services to your pet's needs.
Dr. Robert Ormond, DVM
Veterinarian
Dr. Robert Ormond founded Linder Pet Medical Care in 2011. Rob has known his entire life that he wanted to be a veterinarian. Dr. David says he had ridden along in the mobile unit since he was in diapers, and when he was 9 years old he knew he wanted to be his father's apprentice. He followed his father's footsteps and graduated from veterinary school in 2011 from St. Matthews University after completing his clinic training at the University of Minnesota.
If you have met Rob, it is easy to see how passionate he is about his profession and his bond with his patients. He prides himself on being able to provide care for his patients throughout their entire life. Whether it is well puppy visits, illnesses, surgery, or palliative care, Rob always makes every effort to ensure that he can be there. "If I had gone into a certain specialty, I wouldn't be able to see my patients full circle throughout their lives. I want that bond with my patients and their families." Rob is particularly passionate about remembering that all of us are pet owners first. He continuously tries to put himself in his client's shoes to ensure a true partnership can be formed throughout the lifetime of a pet. It's the reason that Rob created the Member Plans to offer exceptional care at an affordable price.
Rob and his family have a Domestic Long Hair Cat named Baxter. Rob enjoys spending his free time with his family. His wife, Katie, is a source of constant support. Together with their 6 children they enjoy many outdoor activities, such as camping, backpacking, and water sports. Mostly what makes these things so much fun for him is that his family is always right there with him.
You may catch Rob in clinic, but he truly is in his element when out on the road seeing patients in their home environment. He is Mobile Pet Medica Care's main veterinarian. Rob also enjoys seeing exotics and is even the official veterinarian of the Aquarium of Boise!
"Knowledge is reflected in change."
Dr. David Ormond, DVM
Veterinarian
In 1979 David started Mobile Pet Medical Care and has spent 40+ years providing medical care for the Treasure Valley's four legged companions. In 2011 David passed the torch to his son, Dr. Robert Ormond, and joined his team with both Mobile Pet Medical Care and Linder Pet Medical Care.
In his youth, Dr. David Ormond had the opportunity to experience the of Veterinary Medicine when he adopted his first dog, a Border Collie named Tip. It was the first dog he had owned and David beamed with pride over him. Unfortunately, Tip met an untimely end at just a year old. It was discovered that Tip's food from the local feed store had been contaminated with toxic pesticides. The heartbreaking experience was a lifelong lesson for David. He became passionate about finding the best food for his animals and understanding the science behind the health of his pets. Later, he found himself working for a rancher who had always wanted to be a veterinarian but had passed up the opportunity in 1939. That Rancher's father was the first veterinarian in Northern Utah in 1902. After seeing his mentor and employer's deep regret David changed his studies to Pre-Veterinarian Agriculture.
Dr. David loves learning new things. He enjoys having the opportunity to further his skill set and experience growth even after 40+ years of practice. He is specifically trained in Veterinary Orthopedic Manipulation (VOM), a form of veterinary chiropractic care that helps pets heal from acute injury or chronic illness. "Seeing the transformation of patients from a sick state to a healed state is fascinating. Knowing that we can intervene in nature's process to help animals heal is awe-inspiring to me. If I quit being excited about that I'll know it's time to retire!"
In his spare time, David enjoys being with his wife of 50 years, Gayle. Together they travel and give service to the community. He also enjoys spending time with his 9 children and 36 (and counting) grandchildren.
"Luck comes to those that are prepared. When preparation and opportunity meet, then you have luck!"
Pet-Focused, Pet-Friendly Care in Meridian, ID
Come into our clinic or schedule an appointment for our mobile unit to visit you. We will travel to homes throughout the treasure valley – Boise, Meridian, Star, Nampa, Caldwell, and more.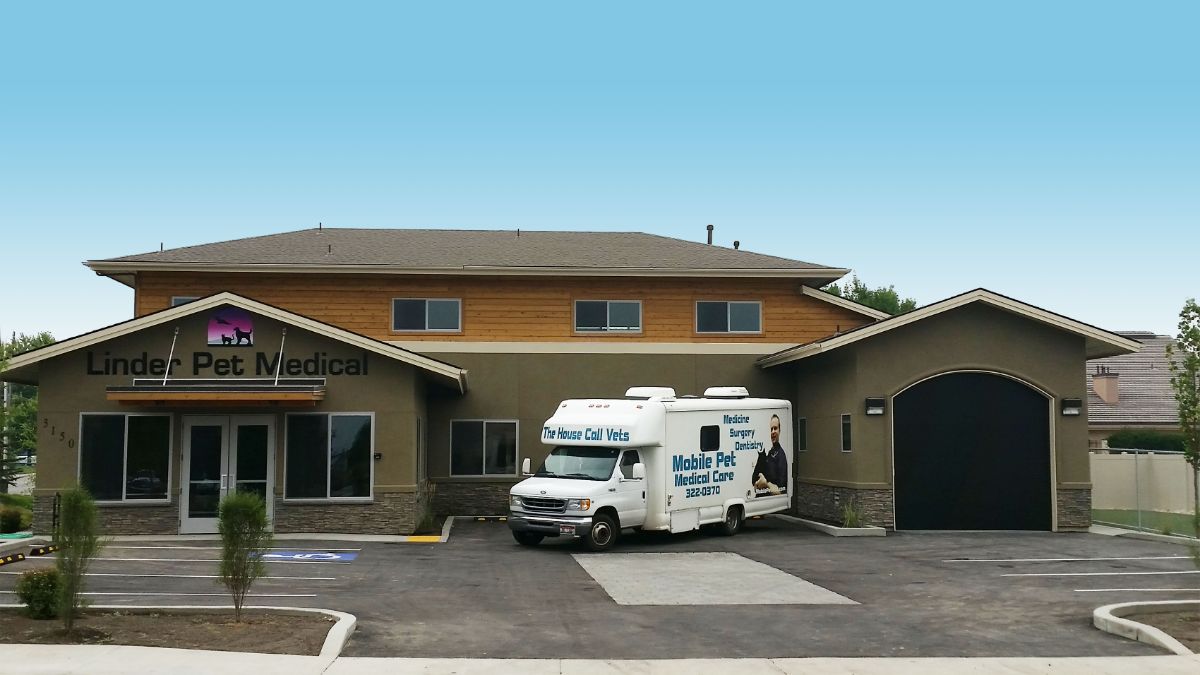 Location
3150 W Sheryl Dr.
Meridian, ID 83642
Hours
Mon: 9AM - 5PM
Tues: 9AM - 5PM
Wed: 9AM - 5PM
Thur: 9AM - 5PM
Fri: 9AM - 5PM
Sat: 10AM - 1:30PM
Sun: Closed
Mobile Pet Clinic
If you need veterinary services in Meridian but are unable to travel, we can help! Our mobile pet care clinic will travel to your home to ensure your pet receives the help it needs. We offer mobile pet care to homes in Meridian, Eagle, Boise, Nampa, Caldwell, Star, Kuna and anywhere in the Treasure Valley. Save time and money by treating your pet in the comfort of your home!
We can't wait to see you!
Use our online form to request your next appointment in minutes.