Visit our online pharmacy to order your next refill!
Linder Pet Medical Care
Pet-focused, pet-friendly veterinary care for the Treasure Valley.
APPOINTMENT
Welcome to our Meridian, ID Pet Clinic!
At Linder Pet Medical Care we know having a sick pet can be a stressful experience; other animals and unfamiliar smells can make your animal nervous and uncomfortable. To ensure the comfort of our patients we provide a calming environment and caring staff to make your visit positive and welcoming. When you arrive at our veterinary clinic in Meridian, our staff is dedicated to making your pet feel relaxed and at ease during a check-up, vaccination, or any other veterinary service. With over 35 years of experience in mobile, clinic, and in-house visits we know how to make our patients feel welcome.
"I cant say enough about the staff and vets here. Having 4 dogs the yearly plan really helps when you just need a quick visit to a serious visit, on our budget."
– Karrie S.
"I'm so entirely grateful for you guys!! Both my kitties, Timee & Andee, were well taken care of before, during, and after their surgeries. All covered under their pet plan. Dr Ormond was super kind, helpful, and informative. The staff is super responsive. I can't thank you guys enough."
– Kim S.
"Great staff. Great doctors. Patent care plan which is absolutely awesome for all your furry family members. Far better than the last vet we attended."
– Mug N.
"First time appointment, very accommodating clinic. I had an appointment for two of my dogs but brought all three of them, the vet was willing and able to examine him and give him the vaccinations he was due for. Thank you Linder Pet! "
– Tami C.
"Quality care of our pets and staff that are genuinely concerned about our animal's health. Sometimes office staff stumbles- but the clinical staff outshine in their compassion and attention to detail."
– Nicholas D.
Mobile Veterinary Care
We offer mobile pet care in Meridian, Boise, Eagle, Nampa, Star, and all throughout the Treasure Valley. Our Mobile Pet Medical Clinic will save you time and money by treating your pet in the comfort of your home.
Providing Options to Meet Your Needs
At Linder Pet Medical Care, we offer low-cost membership plans to help our patients receive the help they need when they need it. Each plan is tailored towards our customers' specific needs to receive annual care in-home or at our Meridian veterinary clinic.
We now offer veterinary care in East Boise, too!
We're now offering our comprehensive veterinary services in East Boise so you have options when working with our veterinarians. Click here to learn more.
Pet-Focused, Pet-Friendly Care in Meridian, ID
Come into our clinic or schedule an appointment for our mobile unit to visit you. We will travel to homes throughout the treasure valley – Boise, Meridian, Star, Nampa, Caldwell, and more.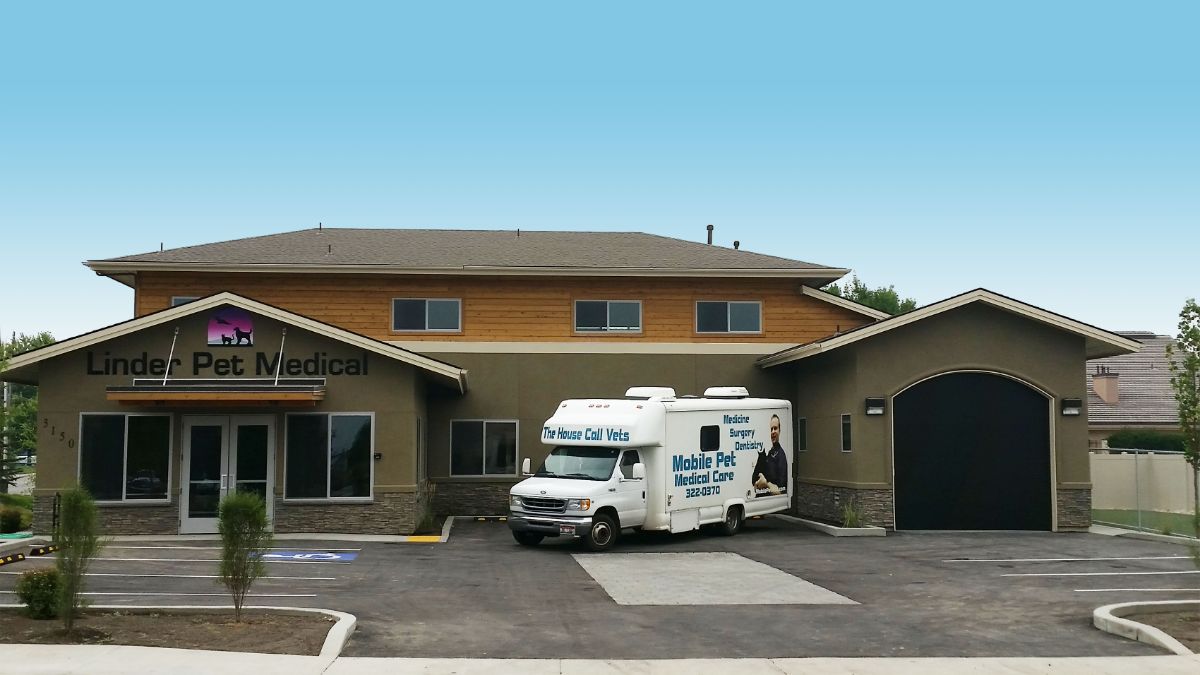 Location
3150 W Sheryl Dr.
Meridian, ID 83642
Hours
Mon: 9AM - 5PM
Tues: 9AM - 5PM
Wed: 9AM - 5PM
Thur: 9AM - 5PM
Fri: 9AM - 5PM
Sat: 10AM - 1:30PM
Sun: Closed
Mobile Pet Clinic
If you need veterinary services in Meridian but are unable to travel, we can help! Our mobile pet care clinic will travel to your home to ensure your pet receives the help it needs. We offer mobile pet care to homes in Meridian, Eagle, Boise, Nampa, Caldwell, Star, Kuna and anywhere in the Treasure Valley. Save time and money by treating your pet in the comfort of your home!
We can't wait to see you!
Use our online form to request your next appointment in minutes.